CAN/AM/THAI/BISS/BPISS/BPIS/AOM/ROM

BABYDOLL'S BUCKLE UP UR GENES

"STUDLY"

#2 POM IN CANADA/2006

TOP 20 POMS/2008 AKC

TOP SIRE 2008/2009 USA

SIRED 2009 APC NATIONAL SPECIALTY BOS WINNER

SIRED 2009 APC NATIONAL SPECIALTY RWD WINNER

SIRED BOB 2010 WESTMINSTER WINNER

SIRED BOS 2010 WESTMINSTER WINNER

STUDLY IS LOVED AND OWNED BY PLOY OF
POM PALACE
POMS


MULTI GROUP WINNER/PLACER

MULTI PUPPY GROUP WINNER

8 X BEST PUPPY IN SHOW WINNER

AOM CDN POMERANIAN NATIONALS 2006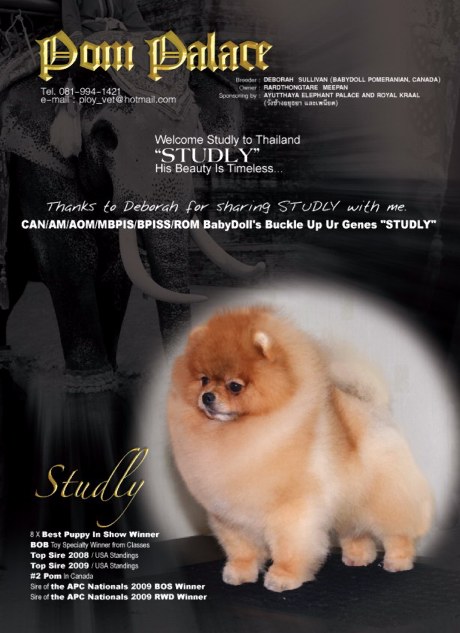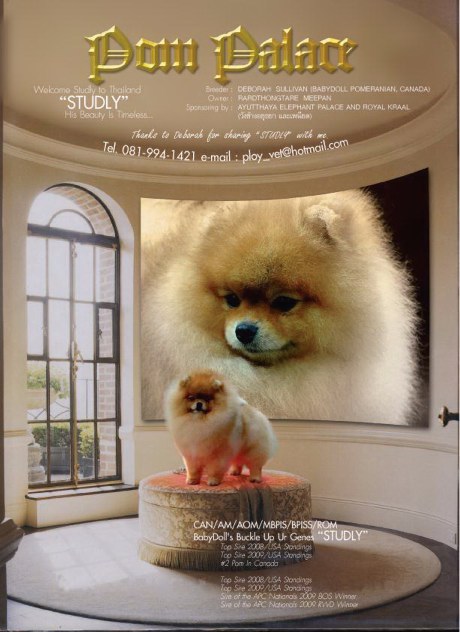 STUDLY IS NOW A THAILAND CHAMPION, WINNING WD/BW/BOB FROM THE CLASSES

UNDER THE ESTEEMED BREEDER/JUDGE AND MASTER OF POMERANIANS

DR DOME OF PAK DOME POMERANIANS

AND THEN ON TO RESERVE BEST IN GROUP AND 3RD BEST IN SHOW STUDLY IS A GROUP WINNER ALONG WITH

BEING A RESERVE BEST IN SHOW WINNER, RESERVE BEST IN SPECIALTY WINNER AND NOW A BEST IN SPECIALTY

WINNER IN THAILAND UNDER THE WONDERFUL GUIDANCE AND HANDLING OF SUDKHET SUKHWICHAI OF
EXCLUSIVE POMS

STUDLY FINISHED HIS CANADIAN CHAMPIONSHIP AT 6 1/2 MONTHS OLD AT HIS FIRST SHOW WINNING A GROUP

PLACEMENT ALL THREE DAYS, BEST PUPPY IN GROUP ALL THREE DAYS AND BEST PUPPY IN SHOW 2 OF THE

3 DAYS AT 6 MONTHS AND 3 DAYS OLD STUDLY WINS BEST OF BREED FROM THE CLASSES OVER MULTI BIS

WINNING POMS IN THE USA AT A TOY SPECIALTY IN NEW JERSEY. HE WENT ON TO WIN BEST PUPPY IN SPECIALTY AND WAS

PULLED FOR THE GROUP. STUDLY FINISHED HIS USA TITLE AT 9 1/2 MONTHS OLD AND WAS SHOWN ONLY 4 WEEKENDS

Disclaimer Notice: These pages may contain information that is privileged and confidential. You are hereby notified that any disclosure, dissemination, distribution, copying

or other use or action taken in reliance on the contents of this information is strictly prohibited without the express permission of the owner of website.